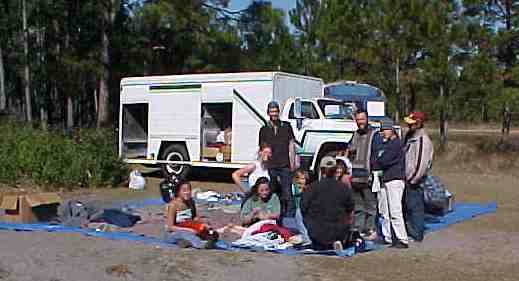 Trout Lake January 2000. A visit from the Turkey.
Welcome Home!
Welcome Home' is a common greeting expressing the fellowship of a rainbow of people and their rejection of 'The World System'. Going to a Rainbow Gathering is a statement of coming out of Babylon or coming out of the world.
Many of them are genuinely seeking after simplicity, love, nature, god or God, and for the most part, find materialism to be offensive to themselves, to god or God, to society, to nature, and to the planet.
They meet in many places like Arizona, New Mexico, Oregon, Missouri, Washington, North Carolina, and Florida. They gather on farms, homes, and at parks, but for the most part the Gatherings take place in National Forests. There is no charge to stay at a gathering. They are free except for personal living expenses and transportation. I have never personally witnessed any attempt at commercialism or hype.
Our Rainbowers come by foot, hitch hiking, car, bus, van, plane, to camp for a two week period in the Ocala National Forest. They stay in tepees, tents, shelters, or sleep on the ground.
Many of the rainbowers that frequent the Ocala National Forest come from October through April due to the good weather of the Florida winters.

Become a Rainbow Chaplain

Disclaimer: We are not the Rainbow Family, we merely minister to those in need.



How to be Ordained


2 Hawks

Return to Rainbow Menu